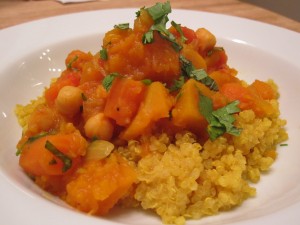 Sometimes things go as planned, and sometimes they don't. For example, the weather on Sunday was beautiful – mid-50s and sunny. That didn't stop me from sticking to my plan: staying inside cooking and reading all weekend.
I decided to make this dish for a few reasons – it sounded delicious, and we bought a lot of spices at the spice market in Istanbul that I haven't used yet. Plus, I am always looking for new recipes to use quinoa in; it is a complete protein and a grain!
The flavors in this dish are very comforting and hearty, with a slight suggestion of heat as you finish your bite. If you're leery of the cayenne, start with a 1/4 teaspoon and see what you think. You can always add more, but you can't take it out.
Moroccan Winter Squash and Carrot Stew
Ingredients:
Stew
2 tablespoons olive oil
1 cup chopped onion
3 garlic cloves, chopped
2 teaspoons Hungarian sweet paprika
1 teaspoon salt
1/2 teaspoon ground black pepper
1 teaspoon ground coriander
1 teaspoon ground cumin
1 teaspoon turmeric
1 teaspoon ground ginger
1/2 teaspoon cayenne pepper
Pinch of saffron
1 cup chicken/vegetable stock
1 14 1/2-ounce can diced tomatoes
2 tablespoons fresh lemon juice
3 cups 1-inch cubes peeled butternut squash (from 1 1/2-pound squash)
2 cups 3/4-inch cubes peeled carrots
1 can Chickpeas
1/2 cup chopped fresh cilantro, divided
2 teaspoons chopped fresh mint, divided
Quinoa
2 cup quinoa* (Pronounced keen-wa)
1 tablespoon butter
1 tablespoon olive oil
1/2 cup finely chopped onion
1/4 cup finely chopped peeled carrot
2 garlic cloves, minced
1/8 teaspoon salt
1/2 teaspoon turmeric
4 cups chicken/vegetable stock
Method:
For stew: 
Heat oil in large saucepan over medium heat. Add onion; sauté until soft, stirring often, about 5 minutes. Add garlic; stir 1 minute. Mix in paprika and next 8 ingredients. Add 1 cup stock, tomatoes, and lemon juice. Bring to boil. Add squash and carrots. Cover and simmer over medium-low heat until vegetables are tender, stirring occasionally, about 20 minutes; add the can of chickpeas after the first 10 minutes. Season with salt and pepper. (Can be prepared 1 day ahead. Cover and chill.)
For quinoa: 
Melt butter with oil in large saucepan over medium heat. Add onion and carrot. Cover; cook until vegetables begin to brown, stirring often, about 10 minutes. Add garlic, salt, and turmeric; sauté 1 minute. Add quinoa; stir 1 minute. Add 2 cups stock. Bring to boil; reduce heat to medium-low. Cover; simmer until liquid is absorbed and quinoa is tender, about 15 minutes.
NOTE: Sometimes I find a lot of liquid in my quinoa after 15 minutes and it tends to be too firm yet. So, I turn up the heat to medium, remove the lid, and check it after about 5 minutes. Use you best judgment – if it seems undercooked, it probably is. Don't be scared of this grain; it's pretty hard to screw it up.
Rewarm stew. Stir in the cilantro and mint, reserving about 1 tablespoon of the cilantro for garnish. Spoon quinoa onto platter, forming well in center. Spoon stew into well. Sprinkle remaining herbs over.
* You can find quinoa in the natural section of the grocery store, or at a specialty market. It's a grain that has lots of protein, and it tastes great. If you're still not impressed or persuaded, go ahead and use rice.
Adapted from Bon Appétit | January 2006
http://www.epicurious.com/recipes/food/views/Quinoa-with-Moroccan-Winter-Squash-and-Carrot-Stew-233714
Made on 10/18/09.