There is a little Thai restaurant that my mom and used to go to for lunch in Madison (the name escapes me right now) and it had the BEST Thai curry. I have been searching for a comparable recipe for years, and I think I've found it. This simple dish brings all of the flavor of a Thai curry that you can replicate at home, with relatively common ingredients. I've made this dish a couple of times now and its great every time. (I made it once even for my mom, who agrees that it's just like the restaurant.)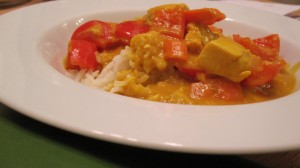 If you decide to make this, which I hope you do, don't judge it until you've let it simmer for a while. I will admit that it seems a bit bland at first, but once all of the flavors have come together, you're going to love this exotic yet comforting dinner.
Panang Curry
Makes 4 to 6 servings
1 1/2 tablespoons olive oil
1/2 cup finely chopped shallots
2 tablespoons finely grated, peeled, fresh ginger
4 large garlic cloves, minced
1/3 cup peanut butter + 2 Tablespoons
2 1/2 teaspoons turmeric
1 1/2 teaspoon ground cumin
1 teaspoon Sriracha
1 cup chicken/veggie stock
1 13 1/2-to 14-ounce can organic light coconut milk
3 kaffir lime leaves, or 3 tablespoons fresh lime juice and 1 1/2 teaspoons finely grated lime peel
1 tablespoon (firmly packed) golden brown sugar
1 1/2 cups sliced, peeled carrots (about 4 medium)
1 large red bell pepper, cut into 3/4-inch pieces
2 large boneless-skinless chicken breast, 1 inch cubes or 2 14-ounce packages organic firm tofu, drained, cut into 1-inch cubes 1 1/2
Once you start, this dish moves fast, so I recommend gathering all of your ingredients before starting.
Heat oil in heavy large skillet over medium heat. Add the shallots, ginger, and garlic; cook until shallots are tender, about 6 minutes. Add peanut butter, turmeric, cumin, and chili paste; stir until fragrant, 1 to 2 minutes. Whisk in the stock, coconut milk, lime juice/zest (or leaves), and brown sugar; bring to simmer. Season sauce with salt. Add the carrots and simmer uncovered over medium-low heat until nearly tender, about 10 minutes. Add the cubed chicken (or tofu) and bell pepper, reduce the heat to low, and cover. You want the sauce to have occasional bubbles rising to the surface, but not quite a simmer; this will keep the meat tender. Continue cooking, covered, until the chicken is cooked through; about 10 minutes. Check the chicken by cutting a larger piece in half to see that it is opaque throughout. Serve over rice.
Serve with basmati rice:
16 oz. Basmati Rice
28 oz. Chicken/Veggie stock
1 sm yellow onion, diced
1 lg clove garlic, pealed and smashed
2 Tbsp Olive oil
Add olive oil, onion and whole garlic clove to pot over medium-low heat. Sweat the onion over low heat for about 10 minutes. Remove the garlic. Add the stock and rice, and turn the heat to high to bring the mixture to a boil. Once boiling, reduce heat to low, cover, and simmer for 15 minutes.
Adapted from Bon Appétit | February 2009 by Jeanne Thiel Kelley on 10/17/09