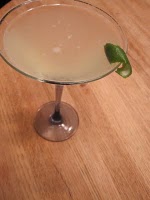 So, in this house, and the one I grew up in, we LOVE basil. When I found this recipe, I knew it was meant to be. Plus, it was the start of fall, and I had a planter full of basil waiting to be used. Unfortunately, mother nature didn't get my memo, and freezing temperatures (we're talking 30 degrees here) killed all of my basil. Ugh. So, making a full batch of this lemon basil syrup wasn't in the cards. I cut the recipe by 1/4 since I only needed 1 cup for the martinis.
I made these when my mom came to visit (when I make thepanang curry) and they were amazing; and amazingly delish with the curry.
Lemon Basil Syrup
4 cups packed fresh basil sprigs (top 4 inches; from a 1/2-pound bunch)
4 cups water
2 cups sugar
9 (4- by 1-inch) strips lemon zest
Bring all ingredients to a boil in a medium saucepan, stirring until sugar is dissolved. Let stand at room temperature, covered, 1 hour, then transfer to an airtight container and chill until cold, about 1 hour. Strain syrup through a sieve into a bowl, pressing hard on and then discarding solids.
Martini
1 cup basil lemon syrup
3/4 cup vodka
1/2 cup fresh lemon juice
Shake with ice, strain and serve. Makes 3 generous martinis.
Adapted from epicurious.com on 10/24/09.