Tabbouleh/Tabouli is a Middle Eastern dish, typically made from wheat bulgar. There are a multitude of variations that are dependent upon the region, such as the Turkish version,kisir. Tabouli is a fantastic dish in the summer – it's cold temperature and light flavors won't put you to sleep after eating. Perhaps most persuasive is that there is little cooking involved.
I love this version with quinoa in place of the bulgar because quinoa has a ton of protein and cooks just like rice.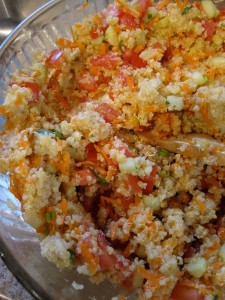 Ingredients
2 cups chicken/veggie stock
1 cup quinoa
1/2 teaspoon sea salt
zest of 1 lemon
1/4 cup olive oil
1/4 cup lemon juice (about 1 lemon)
3 tomatoes, seeded and diced
1 cucumber, peeled, seeded and diced
4 green onions, diced
3 carrots, grated
1 lg clove garlic, grated (or pasted)
1 cup fresh parsley, chopped (or palm full of dried parsley)
Salt and Pepper
Method
Preheat a saucepan to medium heat and toast the quinoa for 2-3 minutes. Add the stock, lemon zest, a little salt, and bring to a boil. Reduce heat to low, cover and simmer for 15 minutes; fluff with a fork.
In a large bowl, whisk olive oil, lemon juice, garlic and parsley. Toss with the quinoa when its done – allow to cool. Meanwhile, chop the veggies.
Once quinoa is cool, add the tomatoes, cucumber, green onions, carrots and parsley. Toss to combine. You may need to add more olive oil if the mixture becomes dry as it cools.
*This dish traditionally has fresh mint as well, but I never have any on hand. If you do, chop it up and toss it in.