We also picked up fresh beets at the Farmer's Market on Saturday. Todd was not convinced when I suggested that we buy some – but he admitted that he has only had pickled beets. Now that he tried this salad, he loves beets, and I think you will, too. They are deliciously sweet, and have a beautiful velvety texture. As you can see from the photo below – I think I'll stick with golden beets from now on. The red beets, while gorgeously pink, made everything pink – even my yummy oranges.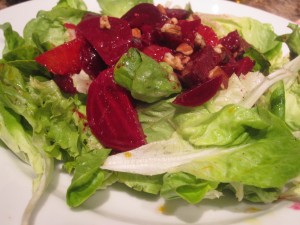 Roasted Beet Salad
2 large oranges
1/3 cup red wine vinegar
1/4 cup extra-virgin olive oil
2 garlic cloves, grated or pasted
1/2 teaspoon grated orange peel
2 Tablespoons toasted pecans, chopped
1 lb salad greens
Preheat oven to 400°F.
Cut off and discard stems from the beets, and wrap each beet in foil. Place beets directly on oven rack and roast until tender when pierced with fork, about 1 hour 30 minutes. Once cool, peel the beets. Slice each beet into wedges. Place beets in medium bowl.
Zest one orange for the dressing, then supreme it: begin by cutting the ends off of the orange. Place the orange cut-side up, and cut the peel/white pith off the orange. Then, working over another bowl and using small sharp knife, cut between membranes to release segments. If that confused you, see this 
video
.* Add orange segments to the bowl with the beets.
Whisk vinegar, oil, garlic, and orange peel in small bowl to blend; add to beet mixture and toss to coat. Season with salt and pepper. Pile the mixture on top of a plate of salad greens. Enjoy!
Feel free to experiment with this – Todd added crumbled blue cheese to his salad, and it was delicious (but I thought it was too overpowering). Certainly goat cheese would be perfect here, if you like it (which I don't; not even a little). I personally might choose a ricotta salatain place of goat cheese.
*Please just take your time when you supreme an orange so that you do not waste as much of it as Ming Tsai does; I'm not a fan of his, but it shows you how to do it.