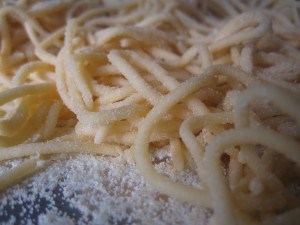 Fresh pasta can be tricky, but it is worth the time. Making pasta at home compares to nothing else you'll have – not even the allegedly fresh pasta in the refrigerated section of the grocery store.
I used the extruder attachment for my Kitchen Aid to make this spaghetti. This is the first time I have used the attachment, and I am really pleased with the results. Prior to the extruder attachment, I had a traditional hand-crank pasta maker. They really are two different processes – it depends on what your preference is.
The hand-crank pasta maker is perfect for the sheets of pasta – use them for ravioli, or to make hand-cut pasta, like rags. However, once you begin to use the hand-crank machine to make the cut pastas, there are not enough hands in the world to help you. For pasta shapes, I definitely prefer the extruder. Which ever method you prefer, the mode of making the dough is the same.
The pasta pictured above is a semolina dough. The key to making pasta dough is knowing what to look for: when the dough comes together into a ball in the food processor, let the machine continue to run for about another 1-2 minutes, which acts as the kneading of the dough. Keep in mind that the weather will affect your dough: if it is a humid day, you may not even need to add any water. You can always add water – but you can't take it out.
1 1/3 c. Semolina flour
1 Large egg, whipped
1 Tbsp Extra virgin olive oil
1-4 Tbsp Water
In a food processor, add the flour. With the processor running, slowly add the egg and the oil. If necessary, add the water slowly – never more than 1 tablespoon at a time – until the dough just forms a ball. Allow the processor to continue to run for another 1-2 minutes. Once done, let the dough to rest for about 15 minutes before making your pasta.
In my case with the extruder, as the pasta reached the proper length, I cut the pasta off and laid it out in a single layer on the countertop, which had a liberal coat of semolina flour to prevent the pasta from sticking (to itself and the counter). You can tell from the picture above that I used a lot of semolina flour; it's ok because the texture of the semolina is more granular than all purpose, and shakes off easily.
Add the pasta to a pot of boiling, well-salted water. Stir, and cook approximately 3 minutes. It's fresh, so it cooks very fast.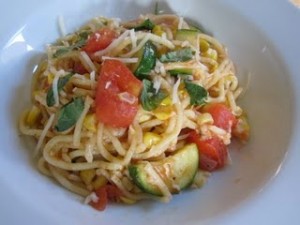 – pure heaven.