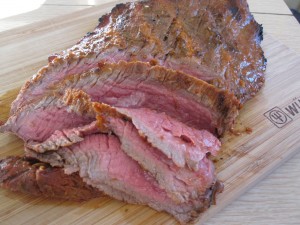 This spicy asian flank steak is SO good. I do not think I need to sell this recipe any more than that because I know that once you try it, you'll make it all the time. It is that good. The secret is cutting the finished product correctly: you can see from the photo that I've sliced the meat very thin. The reason is that flank steak is a tough cut of meat, so by slicing it thin and across the grain, you get to enjoy a meltingly tender bite of steak. Winner, winner, steak dinner.
Spicy Asian Flank Steak
2 pounds flank steak
1⁄4 cup hot chile sauce, Sriracha
1⁄4 cup soy sauce
1 tablespoon sesame oil
1 tablespoon fresh grated ginger
2 cloves garlic, grated
Juice of 1 lime
1⁄4 cup freshly chopped cilantro
To make marinade: In a gallon side zip-top bag, add the chile sauce, soy sauce, sesame oil, ginger, garlic, and lime juice together. Seal the bag and squeeze bag to thoroughly mix the marinade. Add the meat to the bag, seal it shut, and evenly distribute the marinade over the meat. Then ensure that all air is out. Marinate meat about 30 minutes, turning bag over a few times to distribute marinade evenly. (If you want to make this the night before, don't add the lime juice until about 30 minutes before you're ready to grill it and make sure to keep the bag 'o meat in the fridge. Prior to grilling, have meat come to room temperature by removing from fridge for 30 minutes.)
When ready to grill, discard the marinade, and grill the steak on high heat to desired doneness. Steak should not exceed medium rare for optimum tenderness; many people prefer flank steak to be medium rare. Grill 4 to 5 minutes per side; remove meat and let sit at least 5 minutes before slicing; if more grilling is required, grill 1 to 2 more minutes per side. Remember to thinly slice it across the grain.
To enjoy this gorgeous flank steak, try the following: thinly sliced onion, avocado, diced tomatoes, cilantro, lime, and corn tortillas.