There are so many of us who need to eat more vegetables, and would if there were easier and more delicious ways to make them. My husband and I in fact eat a lot of vegetables; here's one of our favorites.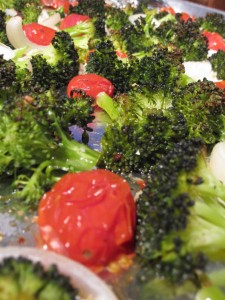 Roasted Broccoli
2          Bunches Broccoli, cut into florets
1          shallot, medium, sliced
1 pint  Cherry tomatoes
3          cloves garlic, minced
½ t.     red pepper flake
4 T.     EVOO
Salt and Pepper
1/3 c. Parmesan Cheese
Method:
Pre-heat the oven to 450º.
On a large sheet pan lined with foil, drizzle the olive oil over the broccoli and tomatoes, and toss together. Spread everything out in a single layer, and sprinkle over the garlic, sliced shallot, salt, pepper, and red pepper flakes. Roast the veggies until the stems are tender-crisp and lightly golden brown, about 18 minutes.
Grate cheese over broccoli when you remove it from the oven, and serve. (The cheese is optional).