Believe it or not, I saw Emeril making this dish while I was writing a grocery list and looking over my cookbooks. See, I subscribe to the method of extreme weekday menu planing – so I find 4 to 5 dishes that I think fit my weeknight meal criteria: healthy, quick, cheap, and easy. I was literally drooling as I watched him make this – but I still felt like I could improve it (just a little).
As an added bonus of this dish, the left over cakes are amazing in a sandwich the next day – even cold. I also think that you could throw the leftover cakes on the grill as great option for any vegetarian friends this summer.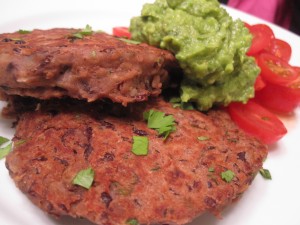 Black Bean Cakes
olive oil
1 small onion, cut into small dice
1 teaspoon ground cumin
½ teaspoon ground coriander
½ teaspoon Mexican oregano
¼ teaspoon dried chipotle powder (feel free to skip if you don't have any)
½ teaspoon salt, plus more as needed
½ teaspoon freshly ground black pepper
2 teaspoons minced fresh garlic
2 (15.5-ounce) cans black beans, drained and quickly rinsed
3 tablespoons chopped fresh cilantro leaves, plus more for garnish
1 egg, lightly beaten
1 lime, juiced
2 teaspoons hot sauce
½ cup all-purpose flour, as needed
Directions
Heat 1 tablespoon of the olive oil in a medium sauté pan over medium heat. When it is hot, add the onion and cook until it is soft and lightly caramelized, about 8 minutes. Add the garlic, cumin, coriander, oregano, chipotle powder, salt, and pepper and cook until fragrant, about 1 minute. Remove the pan from the heat and set aside to cool.
Meanwhile, in a medium mixing bowl, mash the black beans well with the back of a fork. The bean mixture will be relatively smooth, but chunks of bean are great for texture. Stir in the cooled onion/spice mixture, cilantro, beaten egg, lime juice, and hot sauce, and mix well. Add the flour to the mixture as needed, until the mixture binds – start with 2 tablespoons, and add as needed 1 tablespoon at a time. Use your best judgment on when enough flour is in – you can't mess it up, I promise.
Heat about 1 tablespoon of the olive oil in a medium nonstick skillet over medium heat. When the oil is hot, use a 1/3-cup measure to add the bean mixture to the pan, forming a patty. Don't move the cakes around until the bottom is cooked because the cakes will be delicate.
Cook the cakes until golden brown on both sides and heated through, about 5 minutes per side.
Serve with guacamole and tomato salad. Or, if you happen to have an avocado allergy, you could serve it with sour cream, or spike it with a minced chipotle.
Tomato Salad
1 cup grape tomatoes, halved
1 lime, juiced
1 Tbsp Olive Oil
Salt
Pepper
Directions
Whisk together the lime juice and olive oil. Add the tomatoes, tossing to coat, and season with salt and pepper to taste.
Adapted from Emeril – original available http://www.cookingchanneltv.com/recipes/emeril-lagasse/black-bean-cakes-recipe/index.html
Guacamole
2 ripe organic avocados
2 cloves garlic, grated or pasted
1 sm shallot, minced
2 tsp lime juice
sprinkle of ground chipotle powder
2 Tbsp Cilantro, chopped
Salt
Directions
In a medium bowl, mash the avocados with a fork until smooth. Add the remaining ingredients and stir to combine. Add salt to take – keep in mind that the beans (or if you make this for chips) are already salty, so don't over salt it.