These muffins are sure to be a new favorite breakfast treat on the weekends – full of banana flavor, ultra moist, yet satisfyingly dense. This may even become the best banana bread recipe that you're ever tried. What's more, these are the perfect morning snack to travel with. I made these the night before a recent trip to Atlanta for a family wedding. The next morning, I wrapped them individually in plastic wrap and doled them out to the family to stave off the morning crabbies due to hunger. With the protien from the pecans, it worked like a charm.
Banana Crumb Muffins
Ingredients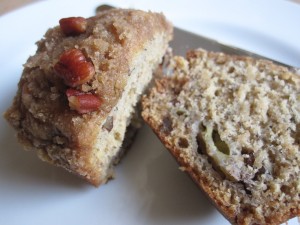 1½ cups all-purpose flour
1 teaspoon baking soda
1 teaspoon baking powder
½ teaspoon salt
3½ bananas, mashed
½ cup white sugar
¼ cup packed brown sugar
1 egg, lightly beaten
1/3 cup butter, melted
¾ cups pecan pieces, toasted
¾ teaspoon cinnamon
¼ teaspoon nutmeg
1 teaspoon vanilla extract
Topping:
1/3 cup packed brown sugar
2 tablespoons all-purpose flour
1/4 teaspoon ground cinnamon
1 tablespoon butter
1 tablespoon pecan pieces, toasted
Directions
Preheat oven to 375 degrees F (190 degrees C). Lightly grease 10 muffin cups, or line with muffin papers.
In a large bowl, mix together 1 1/2 cups flour, baking soda, baking powder, pecans, cinnamon, nutmeg, and salt.
In another bowl, beat together bananas, sugar, egg and melted butter.
Stir the banana mixture into the flour mixture just until moistened.
Spoon batter into prepared muffin cups.
In a small bowl, mix together brown sugar, 2 tablespoons flour and cinnamon. Cut in 1 tablespoon butter until mixture resembles coarse cornmeal. Then stir in pecans. Sprinkle topping over muffins.
Bake in preheated oven for 18 to 20 minutes, until a toothpick inserted into center of a muffin comes out clean.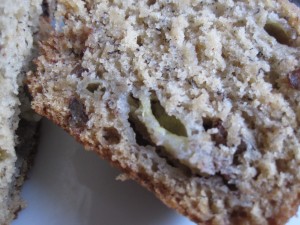 Adapted from http://allrecipes.com/recipe/banana-crumb-muffins/detail.aspx