With the abundance of squash this fall and the craving for heart-warming, soul satisfying comfort food, this butternut squash soup fits the bill. The subtle layers of flavor build as you eat, despite any preconceived notion you may have about a squash soup. Eat this and feel proud – you'll be satisfied, others will be impressed, and you will not have broken a sweat.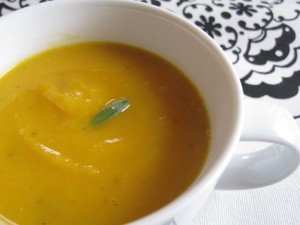 Butternut Squash Soup
2½ lbs Butternut squash (one large or two small)
1 c. yellow onion, small dice
1 clove garlic, whole and peeled
3 Tbsp butter
1 Tbsp Extra Virgin Olive Oil
1½ teaspoons fresh thyme, minced
2 teaspoons fresh sage, minced
Salt
Pepper
2 Bay Leaves
4 c. chicken stock
Preheat the oven to 375º. Prepare the squash by cutting it in half lengthwise and scooping out the seeds. Line a baking sheet with a rim with foil, and lightly oil it. Place the squash cut-side down and pierce the skin all over with a fork. Roast for 45 minutes, or until fork tender. Remove from the oven, and when cool enough to handle, peel the skin off the squash with your hands. Discard the skin.
In a large heavy-bottomed pot over medium-low heat, add the butter, olive oil, garlic clove, onion, sage, thyme, salt and pepper. Allow onions to sweat and sweeten for about 10 minutes. Discard the garlic clove.
If you have an emersion blender, add the squash and stock to the very soft onions. Blend until smooth.
If you have a blender, add the squash and stock to a blender and blend until smooth. Add the squash to the soft onions.
Add the bay leaves and adjust the salt and pepper to taste. Simmer the soup for as few as 15 minutes or as long as an hour; it really depends on how hungry you are.
Serve with any of the following, or nothing at all: croutons, parmesan cheese, parmesan cheese crisps, fried sage leaves, crisp bacon, bread, or wedges of ham and swiss cheese panini.
Now marvel at your awesomeness.
PS Debbie – sorry it too so long to get up!