Every year I plant an herb garden in several pots at our house. There's always basil, thyme, sage, chives and tarragon. But this year I decided to plant lemon verbena because it reminds me of staying at my Aunt Chris and Uncle Mark's organic farm in the summer. Aunt Chis always had huge lemon verbena plants in the flower gardens that I always ran my hands through, releasing the strong herbaceous lemon scent.
Lemon Verbena Pound Cake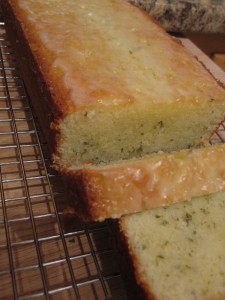 For cake
1 cup cake flour (not self-rising)
1/2 teaspoon baking powder
1/4 teaspoon salt
3 tablespoons finely chopped fresh lemon verbena or 1 tablespoon freshly grated lemon zest
1 tablespoon freshly grated lemon zest
1 stick (1/2 cup) unsalted butter, softened
1 cup granulated sugar
3 large eggs
3/4 teaspoon vanilla
2 tablespoons milk
2 tablespoons fresh lemon juice
For glaze
1/2 cup plus 1 tablespoon confectioners' sugar
1 tablespoon fresh lemon juice
Preheat oven to 325°F. and butter and flour a loaf pan, knocking out excess flour.
In a medium bowl, add flour, baking powder, salt, verbena (or zest), and zest, and whisk to mix. In another large bowl beat butter and sugar until light and fluffy with an electric mixer. Beat in eggs 1 at a time, beating well after each addition. Then beat in vanilla. Beat in half of flour mixture. Beat in milk and lemon juice. Then beat in remaining flour mixture until just combined.
Spoon batter into pan, smoothing top, and bake in middle of oven 45 to 55 minutes, or until golden brown on top and a tester comes out clean. Cool cake in pan on a rack 15 minutes and invert onto rack. Pierce the cake all over with a toothpick to allow the glaze to penetrate.
Meanwhile, in a small bowl whisk together confectioners's sugar and lemon juice until smooth and thick. Once you've removed the cake from the pan, drizzle glaze over cake and let it drip down sides.
Serve cake at room temperature with strawberries . . . if you don't destroy it while it's warm (like we did).
Adapted from http://www.epicurious.com/recipes/food/views/Lemon-Verbena-Pound-Cake-with-Strawberries-11996