As a lover of pasta carbonara, I feel a little guilty (a lot guilty) over the calories and richness of the dish. I love it so much, it was the first thing I ate on our honeymoon on our first night in Rome. This version is made with sweet corn and gets its unctuous flavor from the bacon. Try this amazingly hearty dish after a trip to the farmer's market . . . delicious.
Sweet Corn Pesto and Bacon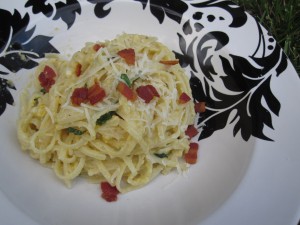 4 bacon slices, cut lengthwise in half, then crosswise into 1/2-inch pieces
4 cups fresh corn kernels (cut from about 6 large ears)
1 large garlic clove, minced
1 1/4 teaspoons coarse kosher salt
3/4 teaspoon freshly ground black pepper
1/2 cup freshly grated Parmesan cheese plus additional for serving
1/3 cup pine nuts, toasted
1/3 cup extra-virgin olive oil
8 ounces tagliatelle or fettuccine
3/4 cup coarsely torn fresh basil leaves
Cook bacon in large nonstick skillet over medium heat until crisp and brown, stirring often. Using slotted spoon, transfer to paper towels to drain, saving the rendered fat.
Meanwhile, shuck the corn, making sure to get as much of the silk off as possible. On a plate, or better get an angel food pan, stand the corn cob up on the stalk end while holding the top firmly. Using a sharp knife, remove the kernels from top to bottom – the kernels will fall into the pan or onto the plate.
Pour off all but 1 tablespoon drippings from skillet. Add corn, garlic, 1 1/4 teaspoons coarse salt, and 3/4 teaspoon pepper to drippings in skillet. Sauté over medium-high heat until corn is just tender but not brown, about 4 minutes. Transfer 1 1/2 cups corn kernels to small bowl and reserve. Scrape remaining corn mixture into processor., and run processor until broken down – about 3 minutes. Add the pine nuts, and process for 1-2 minutes more. With the machine running, add olive oil through feed tube and blend until pesto is almost smooth. Set pesto aside until cool to the touch so it won't melt the cheese, then add 1/2 cup Parmesan and pulse until combined.
Cook pasta in large pot of boiling salted water until just tender but still firm to bite, – just short of al dente. Drain, reserving 1 1/2 cups pasta cooking liquid. Return the drained pasta to the pot and add the corn pesto, reserved corn kernels, and 1/2 cup basil leaves. Toss pasta mixture over medium heat until warmed through, adding reserved pasta cooking liquid by 1/4 cupfuls to thin to desired consistency, 2 to 3 minutes. Season pasta to taste with salt and pepper.
Transfer pasta to large shallow bowl. Sprinkle with remaining 1/4 cup basil leaves and reserved bacon. Serve pasta, passing additional grated Parmesan alongside.
Adapted from http://www.epicurious.com/recipes/food/views/Tagliatelle-with-Fresh-Corn-Pesto-360209#ixzz1xXSsms5u