This slaw is great for picnics because it's mayo-free, and pairs perfectly with meats that take a long time on the grill – like ribs or barbecued chicken. Maybe best of all, it doesn't even require heat, which will keep your kitchen cool on long summer days. Make sure to let this one sit in the fridge for a few hours before eating to mellow all of the flavors.
Apple, Fennel & Celery Slaw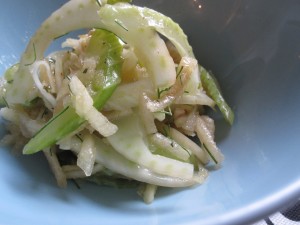 3 tablespoons extra-virgin olive oil
2 1/2 tablespoons apple cider vinegar
1 1/2 tablespoons coarsely chopped fresh tarragon
2 teaspoons fresh lemon juice
1/4 teaspoon sugar
3 celery stalks, thinly sliced diagonally, plus 1/4 cup loosely packed celery leaves
2 small fennel bulbs, thinly sliced crosswise, plus 1 tablespoon chopped fennel fronds
1 firm, crisp apple (such as Pink Lady, Gala, or Granny Smith), shredded
Kosher salt and freshly ground black pepper
In a medium bowl, whisk first 5 ingredients. Add celery and celery leaves, thinly sliced fennel and chopped fennel fronds, and apple; toss to coat. Season to taste with salt and pepper.
Adapted from http://www.epicurious.com/recipes/food/views/Celery-Apple-and-Fennel-Slaw-366451