I invented this salad after a trip to the farmer's market last fall where I bought too many beets. Now I buy beets not only for this salad, but to roast and keep on hand to add to chopped salads throughout the week. I've made this salad for two different dinner parties, and it has always been a hit – even with people who are skeptical of beets and only know the pickled kind in a jar.
This salad is light and refreshing, and would be great as a first course with any long-cooking dish – think chili, or ribs. While the directions look long, it's simple to make and can easily be done ahead of time.
Roasted Beet, Orange, & Fennel Salad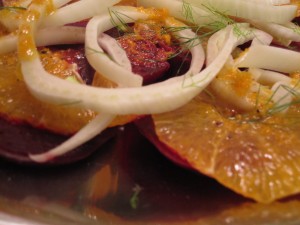 2 large beets
1 fennel bulb
1 naval orange
1 tsp. Dijon mustard
1 tsp. red wine vinegar
1 Tbsp. EVOO
Preheat the oven to 400º. Scrub the beets clean, and trim the greens and the root off. Place the beets in the center of a large sheet of foil and seal into a packet. Bake the packet for an hour and a half, or until the beets are tender when pierced with a fork. Allow to cool, and then peel – the skins will rub off with your thumb. You may want to wear gloves to avoid purple hands.
While the beets bake, zest the orange into a small bowl. Cut the orange as follows: slice off both ends. Place a cut end on the board so it's stable, and cut the skin off all the way around taking the white pith with it. Turn on the side and slice into thin rounds. Set aside.
Make the dressing in the bowl with the zest. Add the mustard and vinegar, and stir to combine. Drizzle in the EVOO whisking constantly to emulsify the dressing. Season to taste with salt and pepper.
Wash the fennel bulb, trimming off any discolored parts. Trim off all of the stems, and save them for garnishing. Remove the core of the bulb by cutting the bulb in half, and cutting out the core by making a V shaped slice. Place the flat side down and thinly slice the fennel bulb.
Assemble the salad on a large platter: sliced beets, topped with sliced oranges. Scatter the sliced fennel on top, and garnish with a light scattering of the fennel fronds (the dill looking greens from the fennel stems you saved). Drizzle with the dressing and serve.