Having never made cornbread before, I threw caution to the wind and created this gorgeous bread. I know I've read about something like it before, but I couldn't find it. And we had a huge pot of chili on the stove . . . it's Packer Sunday after all. So give this bread a try the next time you're looking for a side dish for chili, or any dinner. And don't be scared by the green chiles – they are not too spicy; even people who are very sensitive to spicy food won't be offended.
Green Chile & Cheddar Cornbread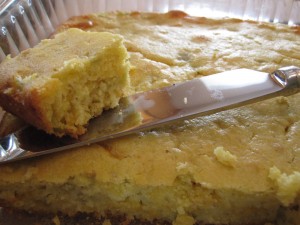 2 Tbsp butter, melted
2 Tbsp heavy cream (or milk)
1-4 oz can of diced green chiles
1 egg
1/3 c. creamed corn
1 box Jiffy Cornbread Mix
3/4 c. sharp cheddar cheese, grated
Preheat the oven to 400 degrees, and grease a 9 x 9 baking dish with butter. In a medium bowl, combine the melted butter, green chiles, egg, cream, and corn; stir to combine. Add the Jiffy mix and stir until just combined. Fold in the cheese. Allow the batter to rest for 3 to 4 minutes, then pour into the prepared pan and even it out. Bake for 18-20 minutes, or until a toothpick inserted into the center comes out clean. Allow to cool before cutting, and enjoy.