There are times when you crave Italian flavors but don't want pasta. This soup fits the bill, and is surprisingly filling. The added bonus is that it couldn't be easier or faster.
3 Tbsp extra virgin olive oil
2 links hot Italian sausage
2 links mild Italian sausage
2 medium yellow onions*
5 cloves of garlic, minced
1 Tbsp Penzey's Italian seasoning
3 cans cannellini beans, drained and rinsed
2 quarts chicken stock
1 bunch kale
Heat a large soup pot over medium heat. While it heats, slice the onions into 1/2 inch strips. Take the sausage out of the casings by running the tip of a sharp knife along the length of the casing, and peeling it off. Then pull off small, bite-size pieces.
Once the pan is hot, add the Italian sausage and break it down into smaller pieces while it browns. Once brown, but not necessarily cooked through, remove the sausage to a plate, leaving the fat in the pan. Add the olive oil and onions, and sauté until the onions are soft, about 7 minutes. Add the garlic and Italian seasoning, and cook for about 1 minute. Add the stock, browned sausage, and cover. Bring to a boil, and then reduce heat to a simmer for 10-15 minutes.
While it simmers, rinse the kale and remove the tough stems all the way up through the leaf. Then tare the leaves into bite-sized pieces, and add the leaves to the soup. Cover the soup again, and simmer for 5 minutes. Add the beans and stir to warm through, about 2 minutes.
Serve with good bread – we used an Italian sesame loaf – and enjoy.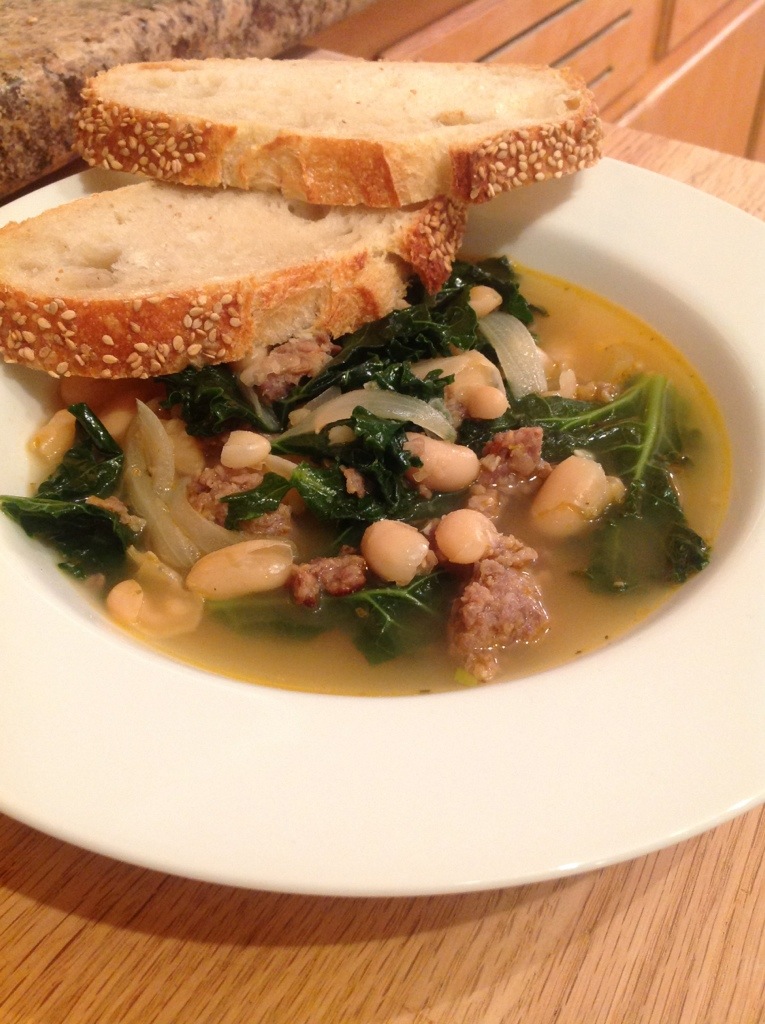 * to me, medium onions are those that are the size of my fist, or just a bit smaller.