My herb garden has exploded, and I need to make use of it. I've been searching for new ideas that aren't boring, which is harder than it sounds. Nothing tastes better than a grilled steak on a summer night, but it's better with a fresh and easy chimichurri spooned over top. Add a crusty piece of bread to mop up the extra sauce – it's that good.
Chimichurri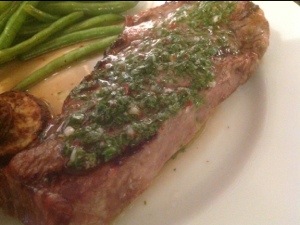 1/2 c water
1-1/2 tsp. kosher salt
Scant 1/2 c fresh oregano, finely chopped
4 cloves garlic, minced
3/4 tsp red pepper flakes
3 Tbsp olive oil
2 Tbsp red wine vinegar
In a small sauce pan, bring the water and salt to a boil to dissolve the salt. Let cool.
Meanwhile, mince the garlic, finely chop the oregano and add to a bowl. Add the red pepper, oil, vinegar, and cooled salt water. Let sit for at least 30 minutes, and spoon over grilled steak, chicken or veggies.