In an effort to use up my herbs before the frost hits and the season is over, I wanted a lemon verbena alternative to pound cake. While these shortbread cookies are about as close to pound cake as you can get – tons of butter – they are a nice shareable and snackable alternative. Not to mention, they are super fast, easy, and require no advance thought since the butter is cold. My kind of baking.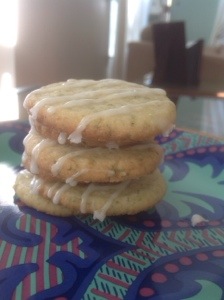 Lemon Verbena Shortbread
1 c all purpose flour
1/2 c + 1 Tbsp powdered sugar
1/4 tsp salt (scant)
3 Tbsp chopped lemon verbena
Lemon zest from 1 lemon
1 Tbsp lemon juice
1 stick butter, cold and cubed
Add all ingredients into a food processor, making sure to add the butter last so it stays cold. Turn on, and process until the dough forms a ball – about 1 minute. Roll dough into 1-inch balls, evenly spaced in parchment paper or a silicone baking liner. Dip a measuring cup in powdered sugar and press the dough into an even thickness. If you have it, sprinkle with sanding sugar – or – just bake. Once cooled, drizzle with a glaze of lemon juice and powdered sugar. Let harden. Scrumtrulecent.