This breakfast quinoa was born out out necessity – I had to address my greek yogurt addiction in the mornings. I love that it has so much protein, but I needed to control the amount of sugar. I tried plain and adding my toppings, but then I would add way too much honey (not because it needed it, but because it was so good). Quinoa seemed a logical next step because it has a lot of protein, I could make a pot on the weekend to get us through the week, and I could control the sugar. The raisins provide plenty of sweetness without having to add more. Feel free to top the quinoa with whatever you like – maple syrup, honey, almond milk, almonds, ricotta cheese, the list goes on.
Cinnamon Raisin Breakfast Quinoa
1 c quinoa, rinsed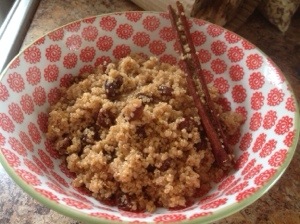 1 3/4 c water
1/2 tsp. orange zest
2 cinnamon sticks
1 tsp. ground cinnamon
1/4 c. raisins
1/4 tsp kosher salt
1 Tbsp butter
In a heavy-bottomed pot over medium-high heat, add all of the ingredients, cover, and bring to a boil. Reduce the heat to low and cook cook for 15 minutes. The quinoa will have absorbed the water, and will be soft. Spoon into bowls, top, and enjoy. This heats up beautifully throughout the week for breakfasts.
The cinnamon sticks can be dried out and used again for next week's breakfast.