This recipe was adapted from epicurious; the original was desperately bland. After many attempts and tweaking, we've perfected it. Plus, with a little prep work on Sunday, this can be on the table and ready to eat in less than 30 minutes.
Spicy Tofu Stir Fry with Brown Rice
1 Tbsp. vegetable oil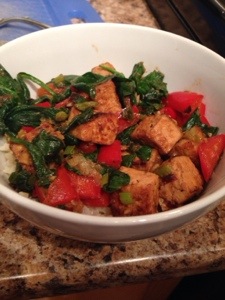 2 c. brown rice, rinsed
3 1/4 c. chicken stock
1/4 c. vegetable oil
1 14-16-oz. package extra firm tofu; drained well, cut into 1-in. cubes
3 Tbsp. grated fresh ginger
6 cloves garlic, minced
2 red bell peppers, diced
1 bunch green onions, sliced (whites and greens)
4 Tbsp. soy sauce
2 Tbsp. lime juice
3/4 tsp. red pepper flakes
1 6-oz. bag baby spinach
1/3 c. fresh basil, chopped
1/3 c. salted, roasted peanuts, chopped
Start with the rice; heat a heavy-bottomed pan over medium heat. Rinse the brown rice well, and add the oil, rice, and stock to the pan. Cover and raise heat to high. Once boiling, reduce head to low and cook, covered, for 35 minutes. Do not lift the lid.
Heat oil in wok or heavy-bottomed pan over high heat. Add the oil and tofu, and brown on all sides until crisp; set aside.
If necessary, add about 1 tablespoon oil in the pan. Once hot again, add the bell pepper, garlic, onion whites, and ginger, and sauté until tender; about 3 minutes. Add the tofu and green onion, and toss for 2 minutes, or until the onions are soft.
Add the soy sauce, lime, and chili flake, and stir until coating, about 1 minute.
Add the spinach and stir in until wilted; about 2 minutes. Take the pan off of the heat, and stir in the basil. Serve over brown rice, and top with chopped peanuts.
If you want to prepare this ahead of time, brown the tofu, cook the rice, chop the pepper, grate the ginger, and mix the sauce. Come 7 pm on a weeknight, you can have a hot meal fast.