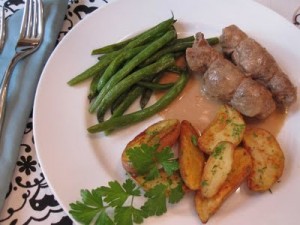 I have to introduce my debut newspaper article by admitting that I cannot pronounce the name of this dish, Paupiettes du Boeuf. However, I take solace in the fact that Nancy Stohs, the food editor for the Milwaukee Journal Sentinel, cannot either. You can find my article, as well as more pictures of the process and fellow blogger's tales on the Milwaukee Journal Sentinel's website atwww.jsonline.com/food.
There are two things that I did not mention in the article: how AMAZING the sauce was and how much more we enjoyed this as leftovers. I served the Paupiettes with green beans (obviously) and fingerling potatoes. (Come back tomorrow for the potato recipe – so good!)
Without further ado:
In an era when a craving can be fulfilled by hopping online to your favorite food website for a recipe, a 40-year old cookbook can be intimidating. To avoid feeling overwhelmed while using Mastering the Art of French Cooking, I read the recipe I chose at least a dozen times. Feeling confident, I began with the filling for the Paupiettes du Boeuf (p. 318), which means braised stuffed beef rolls. I lovingly call this dish "meat stuffed meat."
The stuffing of pork, veal, and herbs was a snap, after I visited most of the grocery stores in Milwaukee for ground veal. The next step was stuffing the pounded slices of beef, which seemed simple enough. However, when the rolls hit the heat, the meat shrank and the toothpicks I used to secure them were not holding; I should have used string as Julia had directed. My amazing husband Todd came to the rescue: he had asked a butcher for some string on the sly. He triumphantly handed it over, and we began to tie the remaining paupiettes. What a breeze they were to sauté, and decidedly more attractive. The remaining steps were equally straightforward – add it all into the pan, and braise it at 325 degrees for about an hour and a half. Well. I am once again reminded that straightforward does not equal uncomplicated. I suppose this is the part where I confess: I do not use the oven very often, and it shows.
Once I put the pot into the oven to braise, I checked on it several times to baste the paupiettes. Each time the liquid seemed to be at more of a boil. This is where I went wrong, and why my paupiettes were dry. Julia Child (and likely author Julie Powell) would be so disappointed. I completely forgot a basic principle: if you boil meat it will become dry. And so it was with this dish. All I can say is that in an era where we retrieve recipes online, and can read the reviews of home cooks before us, using this book is something like a pop quiz. You had better know (and remember) your stuff before you set out – like "do not boil meat."
Paupiettes du Boeuf
½ cup finely minced onions
1 tablespoon butter
6 ounces lean ground pork
6 ounces lean ground veal
3 ounces fresh pork fat, minced fine
1 clove garlic, mashed
1/8 teaspoon dried thyme
Pinch of allspice
Big pinch of pepper
¼ teaspoon salt
¼ cup chopped parsley
1 egg
2 ½ pounds lean beef (top round or chuck), cut into 18 cross-grain slices ¼ inch thick and 3 inches in diameter
Salt and pepper
2 to 4 tablespoons rendered pork fat or good cooking oil
½ cup sliced carrots
½ cup sliced onions
3 tablespoons flour
1 cup dry white wine or dry white vermouth
1 ½ cups brown stock or canned beef bouillon
1 (4-inch) square of fresh pork rind, bacon rind or salt-pork rind, simmered 10 minutes in a quart of water, then drained
1 large herb bouquet (6 parsley sprigs, 1 bay leaf and ½ teaspoon dried thyme) plus 2 cloves garlic tied together in cheesecloth
1 tablespoon prepared Dijon mustard
1/3 cup whipping cream
Parsley sprigs
Needed equipment: 3-quart mixing bowl, wooden spoon, white string, a heavy fireproof casserole about 10 inches in diameter and 2 ½ to 3 inches deep, bulb baster, wire whip.
Cook onions slowly in butter 7 to 8 minutes, until they are tender, but not browned. Scrape into mixing bowl.
Add pork, veal, pork fat, garlic, thyme, allspice, pepper, the ¼ teaspoon salt, the chopped parsley and egg. Beat vigorously with wooden spoon until thoroughly mixed.
Flatten each slice of beef to a thickness of 1/8 inch by pounding between two sheets of wax paper with a wooden mallet or rolling pin. Lay meat flat on a board and sprinkle lightly with salt and pepper.
Divide the meat stuffing into 18 portions and place one on the lower third of each slice. Roll meat around stuffing to form cylinders about 4 inches long and 1 ½ inches thick. Secure each with 2 ties of string. Dry with paper towels.
Preheat the oven to 325 degrees.
Heat rendered pork fat or oil in heavy casserole until almost smoking. Brown paupiettes lightly, a few at a time, and remove to a side dish. Reduce heat to medium and brown vegetables slowly 4 to 5 minutes, stirring. Then add flour and brown it slowly 2 to 3 minutes. Remove casserole from heat and immediately beat in wine, then stock or bouillon.
Lay rind in bottom of casserole. Place paupiettes over it, and add more stock or bouillon, or water, if necessary to the liquid so paupiettes are barely covered. Add herb bouquet.
Bring to a simmer on top of stove. Cover casserole and set in lower third of preheated oven. Regulate the heat so the paupiettes simmer very slowly 1 ½ hours. Baste them two or three times with liquid in casserole.
Remove paupiettes to a side dish and cut off trussing strings. Strain cooking liquid into a saucepan and degrease thoroughly. Boil down sauce if necessary, to concentrate its flavor. You should have 1 ½ to 2 cups thick enough to coat a spoon lightly. Correct seasoning.
Off heat, beat mustard and cream into sauce. Simmer 1 minute. Rearrange paupiettes in casserole or a fireproof serving dish, and pour sauce over them.
(Recipe may be prepared in advance to this point. Film top of sauce with a spoonful of stock or melted butter. When cold, cover and refrigerate.)
About 10 minutes before serving, reheat barely to a simmer on top of stove. Cover and simmer slowly 5 minutes or so, basting paupiettes frequently with sauce. Serve from the casserole, or arrange paupiettes on a platter, spoon sauce over them and surround with rice or noodles. Decorate with parsley sprigs.
________
P.S. I finally found the ground veal at Sendick's.