These are the best burgers by far. When Todd ate one he said, "I'm having a food moment." That's the best compliment ever. This recipe makes 4 quarter-pound burgers.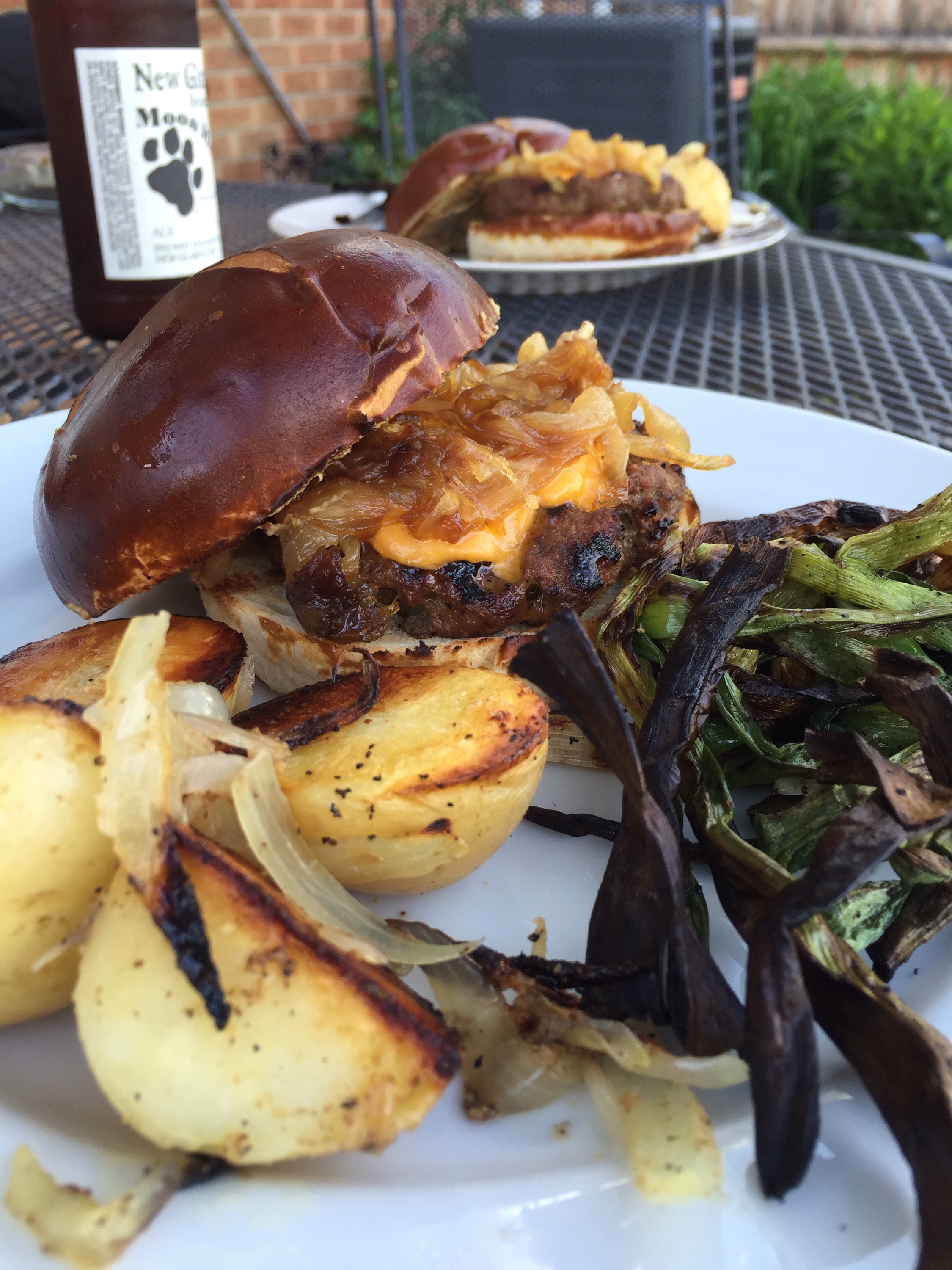 1 lb. ground beef (80/20)  
2 Tbsp Worsteshire
1/4 tsp Beefer Upper (beef stock base). If you don't have this, just skip it.
1 tsp. Sirracha
1 tsp. garlic powder
2 tsp. toasted onion powder
1/2 tsp. freshly ground black pepper
Lowery's Seasoning Salt
2 medium yellow onions, sliced about 3/4″ thick
2 Tbsp butter
4 fresh pretzel buns
Aged cheddar cheese (we use a 7-year), broken off in to thin shards
Country Dijon mustard
Caramelized Onions: Start this right away as it will take 45 to 50 minutes. Use 1/2 medium onion per burger (if you're making 2 patties, then one onion. If you're making 4 patties, then 2 onions). Over medium low heat, melt the butter, and add the onions. Stir regularly to ensure even browning. You will have to deglaze the pan with water once or twice during cooking to prevent burning; just use about 1/4 cup of water as it will cook off quickly.  Leave in the pan until ready – you can just warm then back up in the pan. 
Mix all of the seasonings but the meat and Lowrey's together in a bowl and let sit until thick; about 2 minutes. Add the beef and combine, being careful not to over work the meat. Form into 4 patties (for quarter-pound burgers) that are thinner in the center than at the sides to prevent meatballs. Sprinkle both sides of the patties lightly and evenly with Lowery's. Set aside until ready to grill.
Grill burgers to desired temperatures. After the first flip, add the shards of cheese so they begin to melt. Lightly butter the buns and toast on the grill.
Spread both sides of the buns evenly with mustard. Add the onion to the bottom bun, place the burger topped with the melted cheese, and the lid. Enjoy with asparagus.