I rarely find a recipe that I don't tweak or change. I also don't make many dishes with only a few ingredients and/or spices, but this is one of them. It's perfect.
This salad is such a great sumer dinner. Not only does it have great flavor and texture, it takes 5 minutes to throw together. We had it for dinner tonight on its own, although it would be great with some crusty bread, and a grilled chicken breast marinaded in pesto.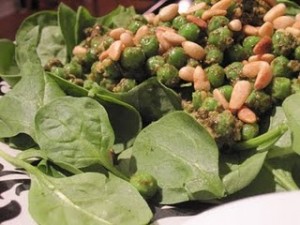 Pesto Pea Salad
Ingredients
1/4 lb baby spinach, washed
10 oz. frozen peas, defrosted
1/2 c. prepared pesto
1 tsp. salt
4 Tbsp toasted pine nuts
Method
Place all ingredients in a bowl. Toss. Eat.
* I really like to use the frozen baby peas from Trader Joe's.
Recipe from Ina Garten's Barefoot Contessa at Home, page 77 (2006); my picture 🙂