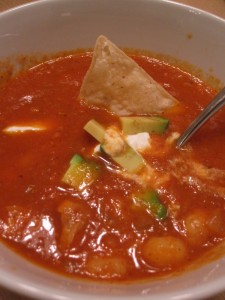 I honestly know what kills my husband about my eating habits: when he asks what I want to eat, my answer is always the same – "something healthy, cheap, and delicious." Really, Leah? Yes, really. Even when cooking at home, that is a tough request. Following the decadence of the holiday season, this healthy and flavorful soup satisfies the part of you that wants to continue eating everything in sight, and the other part of you that swore to eat better/workout/fill-in-the-blank.
Don't be intimidated by the unique cooking style of this soup – charing the onions and garlic before pureeing. I promise that anyone can do it. Top the soup with some diced avocado (healthy fat), cilantro, sour cream (low fat, please), and a couple tortilla chips, and enjoy.
Chicken Puebla Stew
2 lbs chicken thighs (boneless, skinless)
2 c broth/stock
2 t. salt
2 garlic cloves whole, not peeled
1 small onion, quartered
1 (14 oz) can whole tomatoes in juice
1 chipotle in Adobo (1 medium chilie)
1 t. dried oregano (preferably Mexican)
1 t. Cumin
½ t. Smoked paprika
1 (1 1/2-oz) link dried Spanish chorizo, finely diced
1  small onion, diced
1 T.  vegetable oil
1 c. corn (frozen)
1  14 oz can white hominy
1 avocado, diced
warm corn tortillas or chips
Sour cream
Cilantro
Season the chicken with salt and pepper, and saute over medium heat until browned and cooked through, about 8 minutes. Transfer chicken to a plate; set aside. Once cool, dice the chicken into bite-sized pieces or shred it. You can also use leftover chicken rather than making some – any cut of chicken will do.
In a large dutch oven, cook the chorizo and diced small onion in oil over medium heat until the fat is rendered, about 2-4 minutes.
Meanwhile, heat a small dry cast-iron skillet over high heat and brown the garlic and quartered onion on all sides, turning with tongs, about 5 minutes. Peel the garlic, and transfer it and the onion to a blender. Add the tomatoes with juice, chiles, and oregano, then purée until smooth.
Add cumin and paprika to the large pot with chorizo and onion, cooking 2-3 minutes more. Carefully add the tomato purée (it will splatter and steam) and the hominy, and simmer, stirring frequently, about 10 minutes or until thick. Add the 2 cups of broth and return the soup to a boil. Once it boils, reduce the heat to low and add the chicken and frozen corn; let simmer, covered, for 10 minutes.
Serve with sour cream, sprinkled with diced avocado and cilantro.
Adapted from Epicurious, original recipe available at www.epicurious.com/recipes/food/views/Puebla-Chicken-and-Potato-Stew-109026