This was born in the moments before a Packer game when a plan when horribly wrong. Intending to make a hot cheesy dip with ricotta, my ricotta was moldy. Argh. So I put a can of Cannellini beans to use. This dip is easy and flavorful – it goes best with a good loaf of bread, but is good with pretzels, too. By starting the aromatics in a cold pan, the oil becomes infused with the flavor as well.
Toasted Garlic & Rosemary White Bean Dip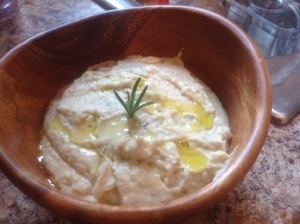 1/4 c extra virgin olive oil
1 lg clove garlic, thinly sliced
1/4 tsp red pepper flake
1 spring fresh rosemary, leaves stripped from the stem
2 Tbsp Pecorino Romano, grated
1 can Cannellini beans, drained and rinsed
Add the olive oil, pepper flake, garlic, and rosemary to a small sauté pan, and put the pan on medium heat. Cook until the garlic is golden brown and toasted, about 5 minutes.
Meanwhile, add the beans to a food processor and purée until smooth. Add the hot oil and continue to purée until smith, scraping the bowl as necessary. Add the cheese and pepper to taste – purée until incorporated.
Turn the dip into a serving bowl and drizzle with more oil. Serve with bread, pretzels or veggies.