Whether you're looking for a light summer dinner, or a taste of summer in the relentlessness of this harsh winter, this is a MUST eat. I found myself on Brady Street at the end of the day, just blocks from Glorioso's, which Milwaukeeans know as the fantastic Italian grocer. Armed with my iPhone, I grabbed imported oil-packed solid white tuna, cannellini beans (white kidney beans, which are gloriously creamy), and tomatoes. Eating this dinner made me temporarily forget that there is a huge storm on the way (and that I was suffering from a bad case of conjunctivitis.)
Italian Oil-Packed Tuna & Cannellini Bean Salad
1 clove garlic, grated on a microplane (or pasted)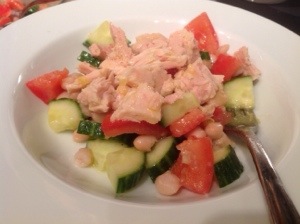 Zest from 1 lemon
3 Tbsp. lemon juice
1/4 c. extra virgin olive oil
salt & pepper
1 15 oz. can Italian cannellini beans, drained and rinsed
1 lb. English cucumber (aka seedless), quartered length-wise and sliced
3 medium tomatoes, seeded and diced (apx. 1-inch)
2 cans Italian imported oil-packed solid white tuna
Put together the dressing: combine the grated garlic and lemon juice, and whisk in olive oil in a slow stream to make sure it emulsifies. Season with salt and pepper, being careful with the salt because of the beans and tuna. Allow the dressing to sit for 10-15 minutes for the garlic to mellow out. You will need to whisk it again before dressing the salad.
Meanwhile, chop the veggies, drain and rinse the beans, and drain the tuna. Toss the beans and veggies in half of the dressing, and arrange in a bowl or on a plate. Top with the tuna, and drizzle with remaining dressing.
Garnish with flat-leaf parsley (if you have some – not necessary).
Devour.
Adapted from epicucious.