This dressing is so creamy that you'd think it was full of mayonnaise, but it's not. It's perfectly balanced and amazing with beets.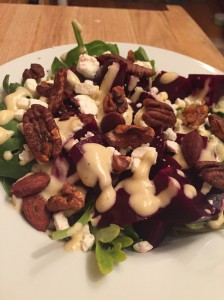 1 small shallot, minced
1 lemon, juiced
2 tsp. Dijon mustard
1 tsp. honey
1/2 c. olive oil
Salt
Pepper
Add all ingredients to the blender, and run until dressing is creamy and thick. This works especially well on our Ninja.
The dressing is pictured here with baby greens, roasted beets, feta, and spiced nuts.