Todd found this recipe to help me find healthy alternatives to sandwiches for lunch, and like everything else on here, we've made a lot of changes for the better. This recipe is so great at lunch time: a cold grain bowl packed with flavor and texture. We make this Sunday so it's ready to go for the week, and it couldn't be easier. Plus, the quinoa mixture holds very well throughout the week, and it's as good on Friday as it is on Monday.
Sesame Ginger Quinoa Bowls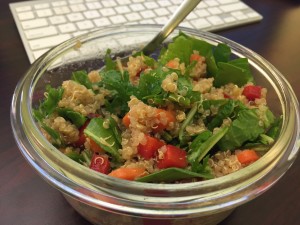 2 cup quinoa
4 cups water
2 large carrots, peeled and diced
2 red bell peppers, diced
1/2 c. walnut pieces, toasted
1/2 c. olive oil
1/4 c. low-sodium soy sauce
1/4 c. rice vinegar
4 garlic cloves, minced
2 Tbsp ginger, minced
4 tsp. sesame oil
1-5 oz package mixed salad greens (we use a mix of baby kale, swiss chard, and spinach)
In a medium saucepan, combine quinoa and water. Cover and bring to a boil. Reduce heat to low and simmer, covered, for 15 min or until liquid has absorbed. Fluff the cooked quinoa with a fork, and set aside to cool slightly.
Meanwhile, in a small bowl, whisk together olive oil, soy sauce, rice vinegar, garlic, ginger, and sesame oil. Set aside until quinoa is done. Chop the veggies and roast the walnuts.
In a large bowl, add the quinoa, carrot, red pepper, and walnuts. Whisk the dressing one last time and drizzle it over the quinoa and veggies. Toss to combine.
Serve topped with handful size of mixed greens and leftover cooked chicken or salmon.
When making this for weekday lunches, I don't top the quinoa with greens or chicken until the morning I'm going to take it to work for lunch.