Every so often you come across a recipe that blows your mind. This is one of those – the most amazing cookies; and they don't even have semi-sweet chocolate (which is usually a requirement for me).  So when you make these cookies – and you should – be careful: may eat the whole batch in one day.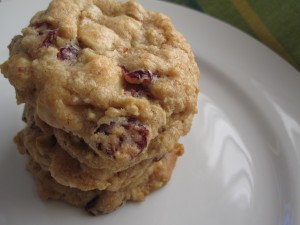 White Chocolate Cranberry Oatmeal Cookies
1 cup all purpose flour
1/2 teaspoon baking soda
1/2 teaspoon cinnamon
1/4 teaspoon salt
10 tablespoons (1 1/4 sticks) unsalted butter, room temperature
1/2 cup sugar
1/2 cup (packed) golden brown sugar
1 large egg
1 teaspoon vanilla extract
1 cup old-fashioned oats
1½ cup white chocolate chips
¾ c. Craisins
Position rack in center of oven and preheat to 350°F. Line 2 large rimmed baking sheets with parchment paper. Whisk flour, baking soda, cinnamon, and salt in medium bowl to blend. Using electric mixer, beat butter and both sugars in large bowl until smooth. Beat in egg and vanilla. Add flour mixture and oats and stir until blended. Stir in all chocolate chips and cranberries.
Drop batter by rounded tablespoonfuls onto prepared sheets, 2 inches apart. Bake cookies, 1 sheet at a time, until edges are light brown, about 16 minutes. Cool on sheets 5 minutes. Transfer to rack; cool completely.