This recipe is adapted from the Thanksgiving issue of Food & Wine magazine – Chef Michael Symon did a special spread. When Todd saw this – being a Brussels sprouts fanatic – we went to the store to get the ingredients. As one who enjoys Brussles Sprouts, this recipe made me LOVE them. We did make a few adjustments, like omitting walnuts and roasting the shallots; you can find the original here if you're so inclined.
Tonight, we decided to have the sprouts for dinner and the dilemma was what kind of protien to have with it. After a long day, I sauteed chicken breasts with salt and pepper. After allowing them to rest, I topped them with the extra dressing for the sprouts – it's a classic. The recipe below calls for 3 pounds of Brussles Sprouts – if you're making dinner for two, use 1 pound and make the entire recipe of dressing to top the chicken. If not, this is great with steak, and the amount of dressing is perfect for the sprouts.
Roasted Brussels Sprouts with Capers and Anchovies
3 pounds Brussels Sprouts, trimmed and quartered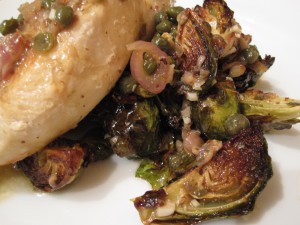 1/4 c. extra-virgin olive oil
Salt and freshly ground pepper
¼ cup red wine vinegar
1 Tbsp grainy mustard
2 Tbsp honey
3 Tbsp capers, rinsed and chopped
2 garlic cloves, minced
2 large shallots, sliced
One 2-ounce tin of anchovies, drained and minced
1/2 c. extra virgin olive oil
Preheat the oven to 425°. Use convection if you have it, and just adjust the roasting time down to 15 minutes on after you rotate the pans and add shallots.
In a large bowl, toss the brussels sprouts with the 1/4 cup of olive oil, and season with salt and pepper. Spread the brussels sprouts on 2 large rimmed baking sheets, making sure that they are all resting on a cut side. These will roast for a total of about 40 minutes. Halfway through roasting, flip the sprouts and sprinkle the shallots on the pan. Continue to roast until tender and charred.
In the large bowl, whisk the vinegar with the mustard and honey. Whisk in the remaining ½ cup of oil until emulsified. Add the capers, garlic, and anchovies; season with pepper. Add the brussels sprouts and toss well. Serve.
MAKE AHEAD The brussels sprouts and dressing can be made up to 4 hours ahead and kept at room temperature. Rewarm the brussels sprouts before serving.