Minestrone soup was one of the first recipes from the early days of this blog. After forgetting about minestrone for a long time, I wanted to bring it back into rotation but with more satisfying flavor. This version has more depth of flavor and less ingredients, because, let's be honest, not every dish on a Sunday has to be a chore. Serve this with a loaf of hot bread and dollop of pesto – no one will complain (or be hungry).
3 links hot Italian sausage, out of casings
1 lg onion, diced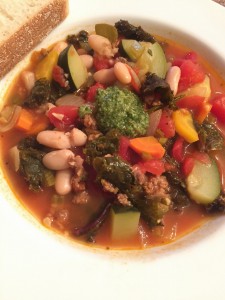 3 med. carrots, diced
1 stalk celery, diced
5 cloves garlic, minced
1/4 c tomato paste
3 Tbsp. Penzey's Italian Seasoning
1/2 c white wine
8 c. chicken stock
1 28-oz can diced tomatoes
2 parmesan rinds (mine were apx. 1″x2.5″ each)
2 med zucchini, quartered and diced
3 cans Cannellini beans, drained and rinsed
1 bunch kale, stemmed and torn into bite-sized pieces
Over medium-high heat, add 2 tablespoons extra virgin olive oil and brown the sausage while breaking it up into very small pieces. Remove the cooked sausage to a plate, and leave about 3 tablespoons oil/fat. If you have more, soak it up with a paper towel and discard. If you don't have that much fat in the pot, add more olive oil.
Add the onion to the fat and sauté for about 5 minutes. Add the carrot and celery; season with salt and pepper. Sauté until vegetables begin to get some color, about 8-10 minutes.
Lower the heat to medium. Add the garlic, stirring constantly until fragrant; about 1 minute. Clear a space in the center of the pan and add the tomato paste to allow it to warm. Begin stirring it into the vegetables and continue to stir so that the paste caramelizes, but doesn't burn. Add the herbs and toss, and add the wine. Scrape up all of the good stuff on the bottom of the pan.
When the wine has simmered off, add the stock, bay leaves, parmesan rinds, tomatoes, zucchini, and browned sausage. Stir to combine, cover, and bring to a boil. Reduce heat to a simmer, and cook covered for 20 minutes.
Add the kale and beans, cover and simmer for 10 additional minutes. Remove the bay leaves and parmesan rinds.
Add a dollop of pesto and/or parmesan cheese, serve with a slice of bread, and enjoy!