WAIT – don't judge this as bland tasteless bread just from the name. This bread is packed with delicious flavor and nutrition to stick with you all morning. Bake a loaf on Sunday, slice it, store it in the fridge, and toast a slice each morning. Top it with peanut butter, and you've really got a good breakfast.
3 ripe bananas, mashed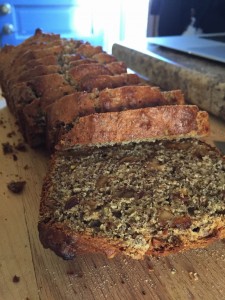 1/3 c. brown sugar
1/4 c. vegetable oil or coconut oil (melted)
2 eggs
1 tsp. vanilla extract
1-1/2 c whole wheat pastry flour
1 c. flax meal
1/2 tsp. baking soda
1/2 tsp. baking powder
1/2 tsp. salt
1/2 c. pitted dates, diced
1-1/2 c. walnuts and/or pecans, toasted
Preheat the oven to 350 degrees, on convection if you have it. To toast the nuts, spread the nuts on a sheet pan and bake for 10 minutes, or until golden and fragrant. Coarsely chop, and set aside.
In a large bowl mash the bananas well. Add the oil, sugar, vanilla, and eggs, and mix to combine. In a separate bowl, add the flour, flax meal, baking soda, baking powder, and salt. Whisk to combine. Then add the diced dates, and toss thoroughly in the flour to separate the pieces.
Add the dry ingredients into the wet, and fold to combine. When just combined, fold in the nuts.
Grease a loaf pan, pour in the batter, and bake for 60 minutes, or until a toothpick comes out clean.  Note that you may need to increase the bake time if you are not using a convection oven.