There are a million hummus recipes out there. Here's the one I prefer.
Basic Hummus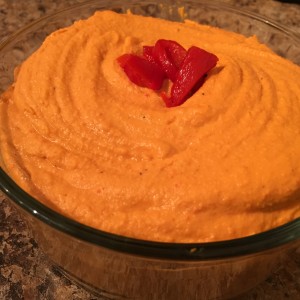 2 cans chickpeas, drained and rinsed
1/2 c. tahini paste (mix well before measuring)
1/4 c. extra virgin olive oil
2 cloves garlic
1 lemon, juiced
1/2 tsp. ground black pepper
water (if necessary)
Add all of the ingredients (except the water) to a blender or food processor. Process until smooth – a couple of minutes, depending on the machine. Taste the mixture for flavor and consistency. You are looking for a velvety smooth texture, so if it seems grainy, continue to process longer. If you like a fluffy texture, add some water to thin it.
Roasted Red Pepper Hummus
1/2 c. roasted red peppers
1 tsp. paprika
Add these at the beginning with the rest of the ingredients. You won't need water for this version.
Spicy 5-Pepper Hummus
1 tsp. Aleppo pepper
1/4 tsp Cayenne pepper (or more depending on taste)
1 tsp. Ground black pepper
1/2 tsp Ground white pepper
1 tsp Ancho pepper
Substitute the larger amount of black pepper here for what's called for above. Add all of the pepper at the beginning with the other ingredients. When you test for texture, be sure to adjust the peppers to your taste.
Curry Hummus
6 tsp Penzeys Now Curry
Add the curry at the beginning of the process in place of the black pepper.