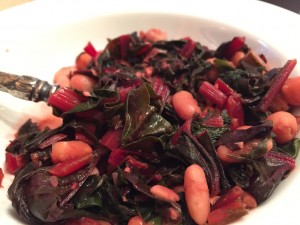 This dish doesn't sound like much, but the combination makes it perfect: savory, substantial, and flavorful. It's so versatile that you can substitute whatever green or bean you have on hand. On top of that, it's so easy that it's a no-brainer on a weeknight – we make it at least once a week as a main dish. This would also be great as a side to any meat.
4 Tbsp olive oil
4 tsp garlic, minced
2 bunches swiss chard (about 10 cups when chopped) (could also use beet greens, kale, mustard greens, etc.)
1 cup chicken stock
2 cans cannellini beans, drained and rinsed (could also use chickpeas or other white bean)
2 tsp malt vinegar
Salt
Pepper
Swiss chard is easy – the center stalk is edible, it just needs a head start. Line up the stalks of the leaves so that you can trim the stalks from the leaves in one cut. Slice the stalks into 1/2-inch pieces, rinse and set aside. For the leaves, cut them into 1-inch strips along the width, rinse and set aside.
In a large pot over medium heat, add the olive oil, stems and garlic. Season with salt and pepper. Sauté until stems begin to soften, about 5-7 minutes.
Add the greens, tossing so that the oil/garlic coat the leaves. Season with salt and pepper. Continue tossing until greens begin to soften and are wilted, about 3-5 minutes.
Add the chicken stock, bring to a simmer, and cook 5 minutes.
Add the beans, stir to incorporate, and continue to simmer for 5 more minutes.
Turn off the heat, stir in the malt vinegar, and serve. This is great as leftovers for lunch, too.